The 40-kilometer-long Zillertal extends south from Inntal (about 40 km east of Innsbruck) to Mayrhofen. I encountered excellent skiing, lovely villages, and picture postcard winter landscapes.
The first stop on my winter tour through Austria by train was Zillertal, Tyrol. After a few days in wonderful Vienna, I was looking forward to hitting the slopes. Late February the winter had taken a firm hold on the Austrian Alps and there was snow in abundance.
Chilly but great fun
The skiing conditions were fantastic. The slopes were very well groomed and the views were nothing less than breathtaking. The only thing that I found slightly challenging were temperatures as low as -15 to -20 °C. Good, warm clothing is essential if you are going to spend hours in the mountains in these temperatures. Luckily the weather played along most days with sunshine from a blue sky. For Alpine skiing enthusiasts, the Zillertal is a real ski paradise, just to use a cliché. With 179 lifts and more than 500 kilometers of slopes, that cliché is by no means an exaggeration. Furthermore, there are distinct differences between the skiing areas, depending on what kind of fun you like.
< Click on the images to enlarge >
Slopes for everyone
Zillertal has 4 skiing areas; Fügen-Kaltenbach, Zell-Gerlos, Mayrhofen-Hippach and Tux-Finkenberg. However, on this trip, I only had time to visit two skiing areas in Zillertal; Mayrhofen and Zillertal Arena. Both are great areas for alpine skiing, but still a little different. The Zillertal Arena has in general narrower slopes as they were running down lower hills, ending up in the valley. While Mayrhofen is a high mountain resort with wide open slopes. Surprisingly, and to my delight, none of the places were too crowded. Even though it was holiday time in much of Europe. Nonetheless, the wide choice of slopes makes this a great skiing destination for all skiers, from beginners to connoisseurs.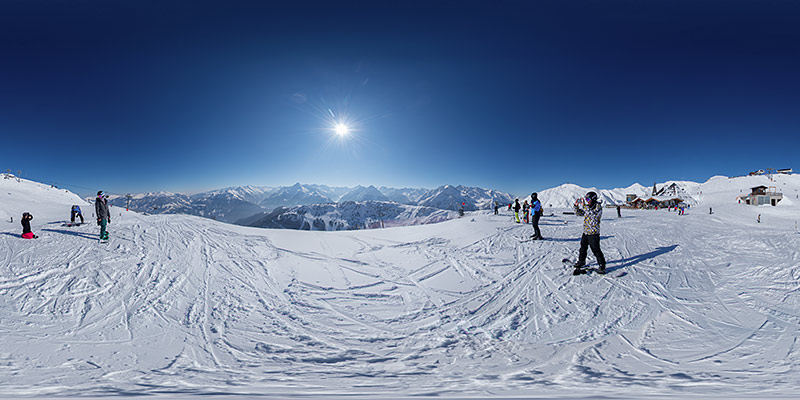 Advertisement
The Harakiri Run
If you are a really good skier and looking for adrenaline kicks, head for the Harakiri. It's supposedly the steepest slope in Austria, with a 78% gradient! Are you ready for that? Well, I was not! I'm (still) not good enough for a slope as steep as the Harakiri, but it was fun to watch skiers going down the insane hill. Some of them struggle with the slope, while others ski smoothly down the hill. There are also other areas for adrenaline-seekers. The freestyle area Penken Park at Mayrhofen, with a wide range of jumps and obstacles, caters to freestylers with levels of experience. Furthermore, as there also are further ski areas, I think Zillertal is a great place to stay for at least one week, to get the most out of what's on offer.
Much more than alpine skiing
Zillertal is of course not only about racing downhill, on or off-piste. There are ample possibilities for winter sports such as cross-country skiing, tobogganing, winter hiking, snow-shoe hiking, ice skating or simply relaxing with a horse-drawn sled ride through the winter wonderland. And if you are staying for a while you can always make an excursion to Innsbruck, which is only about 50 minutes away by car. Or you can go by train (Zillertalbahn to Jenbach and change to the express train to Innsbruck).
Relaxing off-piste
Before I went on the trip, I was warned that eating at mountain restaurants is expensive and the food is not that good. Well, at the ski resorts in Zillertal I enjoyed very good meals at prices that were not higher than restaurants down in the valley, or anywhere else for that matter. The ski resorts around the Zillertal have ample opportunities to get your helmet off and get into party mode. Although, compared to other ski resorts in the Alps, the party scene in Zillertal is not as high-pitched and rowdy. Nevertheless, we had a great time at the Krocha Alm, singing and swaying along with the crowd.
For more info, check out the official Zillertal Tourism website
ADVERTISEMENT
Advertisements