Austria is deservedly well known for its alpine ski resorts. Nonetheless, when the snow has melted, and the landscape turns green Austria also offers great golf.
The small alpine country has more than 140 golf courses. Most of the courses are very well-kept and great fun to play. Additionally, many courses are set in stunning landscapes with spectacular views. You can even play golf on the former hunting grounds of the aristocracy, with castles overlooking the course. Nonetheless, let's briefly look at what you can expect outside the golf course before we show you some of the courses we have played.
Off the golf course
All golf courses are easily combined with other activities. Whether you like indulging in a spa, visiting vineyards or simply going for a bike ride in nature, a golf vacation in Austria can be much more than bogeys and birdies. If you are travelling with your family or friends who are not golfers, there are ample opportunities to enjoy a wide range of activities while you hit the ball. Austria is "The hiking" country. Just stop by the local tourist office and pick up a hiking map.
Family fun
There is plenty to do for families with children or non-golfers while you hit the fairways. On hot summer days, virtually all municipalities have public outdoor swimming pools. Many of them are extraordinary "water worlds" with loads of fun for the entire family. Moreover, if you are into historical sights, Austria has worked hard to preserve its past, and even tiny hamlets often have numerous historic buildings. With such a rich history, there is an abundance of museums showcasing the country's history and culture.
Advertisement
Sleep and eat
Austria is a major tourist destination all year, has a well-developed tourist infrastructure and is generally very well-organised. Consequently, you will find accommodation suiting all travellers, with small family-run B&Bs starting from € 20 per night per person up to five-star plus luxury hotels with any imaginable services. Although eateries with local and traditional food are most common in Austria, you will also find different kinds of restaurants in the larger villages, small towns and cities.
Club facilities
Most golf clubs have good on-site restaurants, often serving local and international cuisine. The courses are usually kept in a pristine state, and facilities such as the driving range and training holes are also high quality. For the most part, green fees cost between € 30 and € 70 for 18 holes. Unfortunately, there are very few pay-and-play or public courses in Austria. Consequently, having a membership in a golf club is vital.
We've visited and played a few courses around Austria to give you some tips for a golf holiday in Austria.
Click on the club names for links to their websites.
The golf course is situated in lovely surroundings at the foot of the Alps in western Styria. It is easily reached by train or by car only about half an hour's drive from Graz in the direction of Voitsberg / Köflach.
The club has a large, spacious driving range, perfect for warming up before the round. The first two holes and the last two holes are pretty flat. Otherwise, the golf course is beautifully located in the hills. However, the course can be physically demanding; thus, renting a cart is a good option.
Most fairways are pretty wide, but still, they require precise game. Otherwise,  the ball will end up in the tall grass rough or a water hazard. There are a few short holes here but plenty of longer links holes and a few doglegs to the right. Nonetheless, my two favourite holes are a short Par 3 hole, where you tee off a plateau, letting the ball fall 20 metres downwards to the green, and hole 18, a long Par 5, where you always have the clubhouse in view behind the flag.
You can enjoy good food, tranquillity, and idyllic surroundings at the clubhouse restaurant, which has a beautiful terrace. Nearby the club, you find several lovely sights and attractions, such as Lipizzanergestüt Piber, where the horses for the Spanish Riding School in Vienna come from. Furthermore, close to the golf course, you will also find a wonderful lake perfect for swimming. The region also offers excellent hiking trails.
Text & Photo: Robert Herold
The Golf Club Almenland is located in a scenic valley about 50 minutes by car north of Graz in Styria. The course is scenic and offers nice views to the 1445 m Schöckel, the highest mountain in the area.
This course has a hilly front 9 and a flat back 9. A varied course that is not too difficult. Even though you are in the Alps, the only part that will raise your pulse is the hill between holes 4 and 5. I have played here several times and love this quiet golf course, with just the right amount of visitors. You rarely have to wait for other flights to finish their hole in front of you during the game.
The clubhouse has a restaurant serving good food and is also very popular with non-golfers hiking in the area.
Text & Photo: Robert Herold
Close to Wiener Neustadt, approx. 40 – 50 min. south of Vienna, Golf Club Enzesfeld is located very beautifully and idyllic in the middle of a pine forest. Hidden away at the end of e small, but paved, forest road you need a GPS to find it.
The front nine are easygoing, but I recommend hiring a cart, especially for the back nine. There are almost no flat holes. The first 9 holes are only slightly hilly, and the fairways are neither broad nor narrow. Nonetheless, it would be best if you played accurately. Otherwise, the ball will disappear among trees or roll off the sloping fairways.
The back 9 is very hilly, and on a couple of the fairways, you have to plan your play carefully, as the flag is out of sight. However, if you are on the edge of the forest with the ball, you can still hit it pretty well, as there are no low-hanging branches or bushes next to the fairway.
Indeed, a challenging golf course is either lots of fun or frustrating.
Terrain: Hilly with water hazards
Difficulty: Demanding
Text & Photo: Robert Herold
Advertisement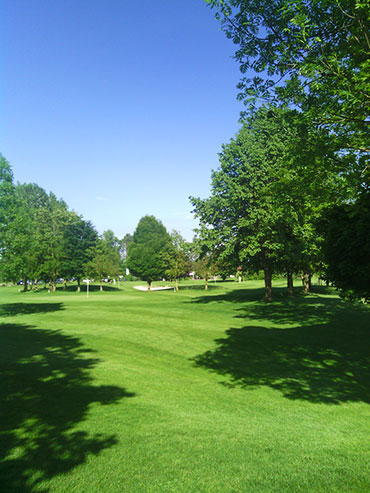 Next to the Danube river (Donau) about 22 km west of Linz the capital of Upper Austria, the golf club offers great facilities. In addition to a 9-hole and an 18-hole Championship course you can work on your game on the Driving Range or Putting-Chipping- and Pitching-Greens
Both the 9 and 18-hole courses are quite flat and compact and require less physical effort than some of the golf courses located in the mountains. As well as the courses themselves, the surrounding areas are very well maintained. The course is often open all winter as the climate in the Danube Valley is mild. This club also has a good restaurant in the clubhouse.
Text & Photo: Arnold Weisz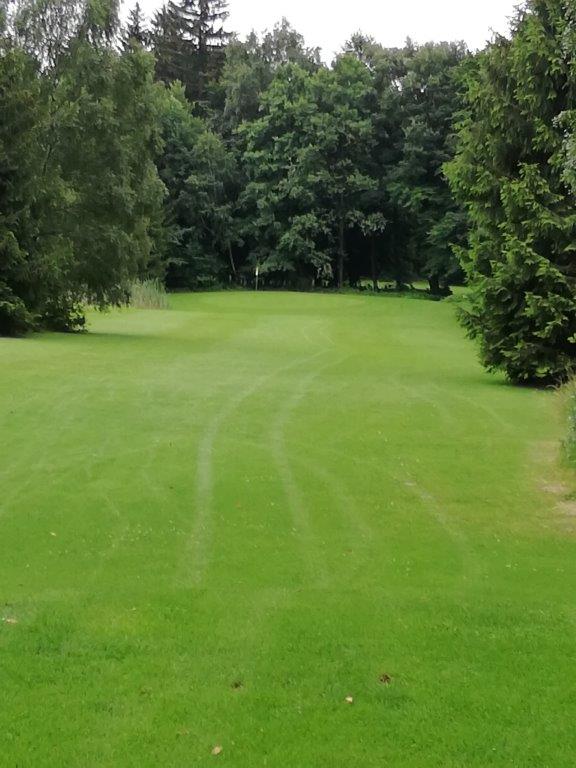 This 9-hole golf course is located approximately 30 km outside of Vienna, in the middle of the Wienerwald. It's a relatively short course that consists of short par 3, par 4 holes and a few par 5 holes. No bunkers and almost no water hazards. Nonetheless, this is not the easiest course I've played. The course is surrounded by forest and parkland with some open parties. This requires accuracy in your game, to stay on the fairway.
You find a cosy golf restaurant on the premises, which also serves as the club reception, where you can enjoy good food and drink. Tuesday and Wednesday the golf restaurant is closed and on these days you pay green fees in a box at hole 1. Furthermore, the driving range is short only allowing for a maximum of 160 meter (170 yds) shots.
The Wienerwald area is a popular recreation area with lots of hiking trails in a beautiful, very quiet and relaxing forest area.
Text & Photo: Robert Herold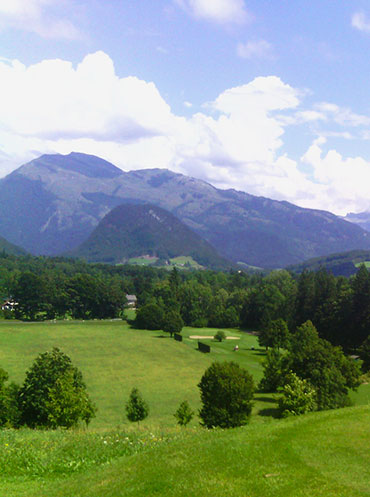 This is golf in Austria in a nutshell. A golf course with a fantastic location in the Alps, between Bad Ischl and St. Wolfgang in Upper Austria. The 18-hole course is laid out in pretty rugged terrain, with quite different holes that require your top game. Perhaps not the easiest course for beginners, but still loads of fun to play. Nonetheless, don't forget to enjoy the spectacular views.
The clubhouse has a good restaurant and there is also a golf shop. Book your tee off in good time, as this course is very popular.
Text & Photo: Arnold Weisz
This golf course is located on both sides of the border between Styria and Burgenland, not far from the lovely small town Fürstenfeld in south eastern Austria. It's part of an extensive Spa-region where you find lots of thermal pools and wellnes hotels.
This is a standard Par 72 – 18 hole course that is relatively flat. The shortest hole is 166/146 m and the longest is 514/470 m from yellow and red tee respectively. According to the players we spoke with, the course is not particularly difficult, but there are more sand bunkers and water hazards here compared to many other courses.
You find a restaurant with food and beverage service at the golf course. In addition, the golf course is located in the middle of a thermal bath region and you can find lots of hotels in the vicinity. A small curiosity, the border between Styria and Burgenland runs through the golf course (not that you will notice).
Text & Photo: Robert Herold
The golf club is located in the lovely wine region of south-eastern Styria. Not far from the spa village Bad Gleichenberg the region offers a wide variety off activities when you have played your round of golf for the day.
The course is a par 72 – 9 hole course that is somewhat hilly. The shortest hole is 112/98 m and the longest is 477/414 m. Players we talked with along the course, say that hole 6 is the most demanding, as it is very narrow with woods on both sides and a water hazard around the green.
Like the vast majority of golf clubs in Austria, they also have a restaurant in the clubhouse.
Text & Photo: Arnold Weisz
Hainburg is located by the Danube river in Lower Austria – about a 50 minutes' drive from Vienna and only 15 minutes from Bratislava, the capital of Slovakia. The golf club is situated on the south east facing slopes of the Braunsberg hill.
The surrounding region is flat in, and only the golf course is built on and into the hill. Consequently, there are only flat 6 holes, and the remaining 12 are up and down the hillside. Hence, it makes sense to use a cart. It's a beautiful golf course with fabulous views. From holes 7 and 17 you have a nice view of Bratislava, the capital of Slovakia.
The course itself is not too demanding, except for a few holes on the hill, which you have to play with precision to avoid hitting the ball into the woods or bushes. Holes 17 and 18 have water hazards next to the green. There are few bunkers except on hole 16 where they surround a small green.
Due to the warm climate, the golf course is often open year around. Moreover, the on-site restaurant is inviting and serves good food.
Text & Photo: Robert Herold
Advertisements