With only an inch of glass or steel between you and the abyss – Dachstein Skywalk is one of the coolest places in Austria.
Not only one but two spectacular viewing platforms that send you over the edge. At 2700 metres (8858 ft) above sea level, the views of the surrounding valleys and mountains from the Dachstein Skywalk are breathtaking.
Suspension
The suspension bridge that takes you from the cable car station, with only a vertical wall below your feet, is the latest addition to the Dachstein Skywalk. Additionally, you find a short stairway (nope, not to heaven) that goes down and out into nothing. This is THE selfie spot on the mountain. Furthermore, at the end of the suspension bridge, you have the entrance to the ice palace, which is also fantastic.
Roof riding
If the viewing platforms are not enough, you can hitch a ride on the roof of the gondola, which takes you up or down the 900 metres between the mountain and the valley. This is where you get close to the elements. Although completely safe, this is not for the faint-hearted. However, only one of the gondolas has a roof platform. Thus, check with the ticket counter to catch the correct departure with the panorama gondola.
<< Click on the images to enlarge >>
Check the weather forecast
Check the weather report before you head up on the mountain. At a ticket price of € 37 (ex., Ice Palace and suspension bridge), you want to get the spectacular views you came for. I once was fooled by the sun shining from a blue sky and went up. Unfortunately, ten minutes after I arrived at the top, a snowstorm hit the mountain, and the views went from spectacular to zero within minutes. However, at least the Apfelstrudel in the restaurant was very good.
ADVERTISEMENT
Activities
Although most summer tourists come for the skywalks, there are plenty of activities to do in the mountains. Snowboarding, skiing, cross-country, climbing, paragliding and hiking, depending on the season and snow conditions. Even for easy hikes, this is a good starting point. Well-signed trails take you through stunning alpine scenery. So bring your hiking boots and proper clothing and enjoy a few hours of hiking.
Lovely alpine village
Visiting the Dachstein Skywalk, we recommend staying in the lovely mountain village of Ramsau am Dachstein, which is only 9 km from the cable car station. This is a typical Austrian village and a popular alpine retreat both in the summer and winter. You can find a wide range of accommodation in and around the village suitable for most tastes and budgets.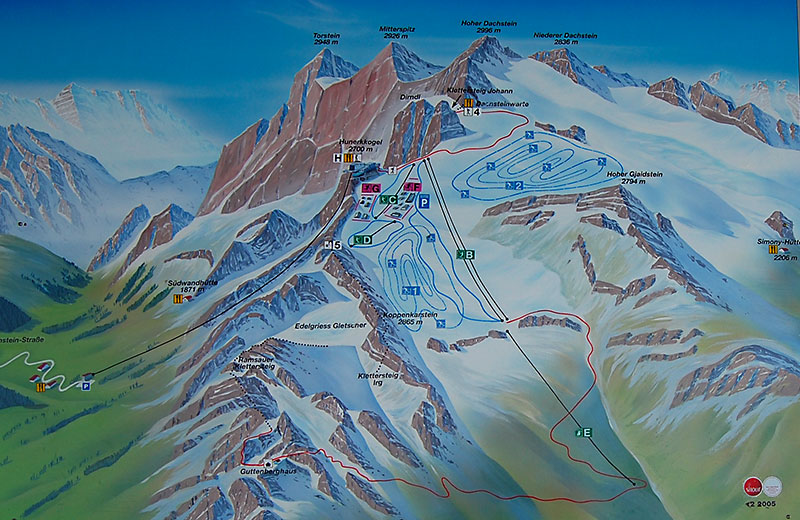 Austria's airports are well-connected to major cities and central train stations. Therefore, we have put together a list of excellent ski resorts that are easily reachable by train, including some info on how to get there from the airport. Moreover, many ski resorts offer inexpensive or free transfers to and from the nearest train station […]

Hiking in wine regions has become popular in Austria. Many people enjoy the rolling hills and soft landscape as a contrast to the fantastic opportunities for alpine hiking in the Alps. We, therefore, ventured out on a 5.8 km (3.6 mi) long hike in southern Styria through vineyards, forest groves, and open farm landscapes. Nature […]

Situated on the banks of Lake Constance, the town of 29.000 inhabitants is a world away from Vienna at the other end of the country. The westernmost state capital of Austria – Bregenz, is best known for its annual theatre festival. However, the city also offers visitors seaside escapes, mountain hiking, and innovative architecture. Nonetheless, […]

Time travel a few hundred years back to the Middle age when the entire village was full of people dressed in historical costumes, and armed knights roamed the streets mingling with flame breathers. The Middle Ages come alive at what has become the legendary folk festival in Mauterndorf, an hour's drive from Salzburg. Every July […]

Austria has short urban funicular railways and longer tracks that take you up the mountains. A funicular railway consists of two vehicles that counterbalance one another rather than independently operated railway cars. Furthermore, they are usually barrier-free and perfect if you are a wheelchair user or travel with a stroller. 1. Hallstatt – Salzbergbahn A […]
ADVERTISEMENTS