With only an inch of glass or steel between you and the abyss – Dachstein Skywalk is one of the coolest places in Austria.
Not only one but two spectacular viewing platforms that send you over the edge. At 2700 metres (8858 ft) above sea level, the views of the surrounding valleys and mountains from the Dachstein Skywalk are simply breathtaking.
Suspension
The suspension bridge that takes you from the cable car station, with only a vertical wall below your feet, is the latest addition to the Dachstein Skywalk. Additionally, you find a short stairway (nope, not to heaven), that goes down and out into nothing. This is THE selfie spot on the mountain. Furthermore, at the end of the suspension bridge, you have the entrance to the ice palace, which is cool as well.
Roof riding
If the viewing platforms are not enough, you can hitch a ride on the roof of the gondola, which takes you up or down the 900 metres between the mountain and the valley. This is where you get close to the elements. Although completely safe, this is not for the faint-hearted. However, only one of the gondolas has a roof platform. Thus, check with the ticket counter to catch the correct departure with the panorama gondola.
<< Click on the images to enlarge >>
Check the weather forecast
Check the weather report before you head up on the mountain. At a ticket price of € 37 (ex. Ice Palace and suspension bridge), you do want to get the spectacular views you came for. I once was fooled by the sun shining from a blue sky and went up. 10 minutes after I arrived at the top a snowstorm hit the mountain, and the views went from spectacular to zero within minutes. However, at least the Apfelstrudel in the restaurant was very good.
Activities
In spite, that most of the tourists in the summer come for the skywalks, there are plenty of activities to doing the mountains. Snowboarding, skiing, cross-country, climbing, paragliding and hiking depending on the season and snow conditions. Even for easy hikes, this is a good starting point. Well-signed trails take you through stunning alpine scenery. Bring your hiking boots and proper clothing and enjoy a few hours of hiking.
Lovely alpine village
Visiting the Dachstein Skywalk we recommend you stay in the lovely mountain village Ramsau am Dachstein, which is only 9 km away from the cable car station. This is a typical Austrian village and a popular alpine retreat both in the summer and winter months. You can find a wide range of accommodation in and around the village suitable for most tastes and budgets.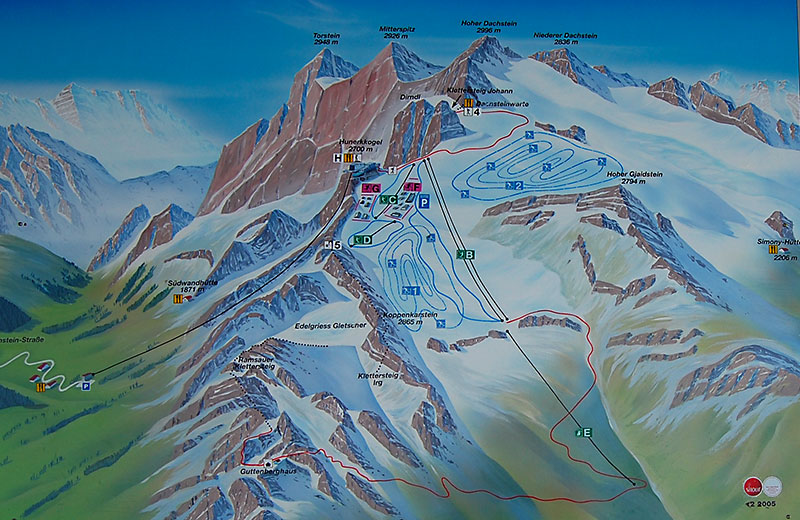 ADVERTISEMENTS