A funicular railway is a great way to travel up mountains if you don't like cable cars or chair lifts. We've picked 5 popular and convenient funiculars you should try out.
Austria has short urban funicular railways and longer tracks that take you up the mountains. A funicular railway consists of two vehicles that counterbalance one another rather than independently operated railway cars. Furthermore, they are usually barrier-free and perfect if you are a wheelchair user or travel with a stroller.
1. Hallstatt – Salzbergbahn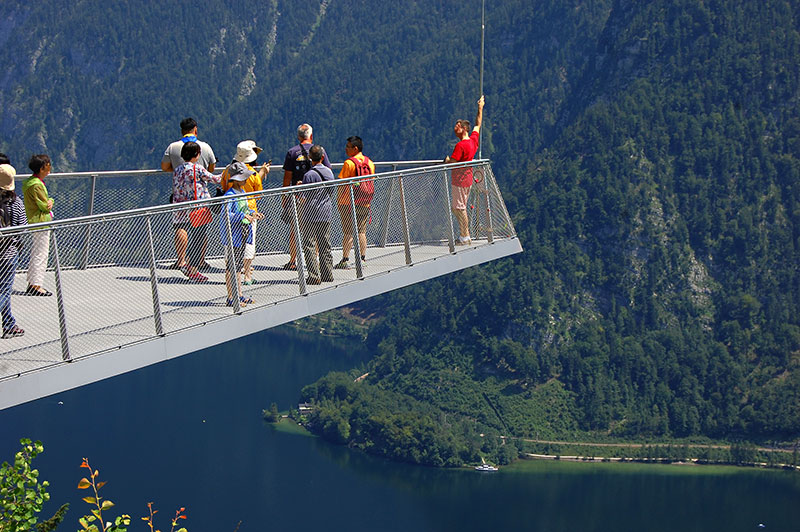 A funicular railway takes you up to the salt mines and viewing platforms in a few minutes. The Skywalk offers a stunning view of the village Hallstatt and Lake Hallstättersee, wonderfully flanked by the spectacular panorama of the Dachstein Massif.
2. Graz – Schlossbergbahn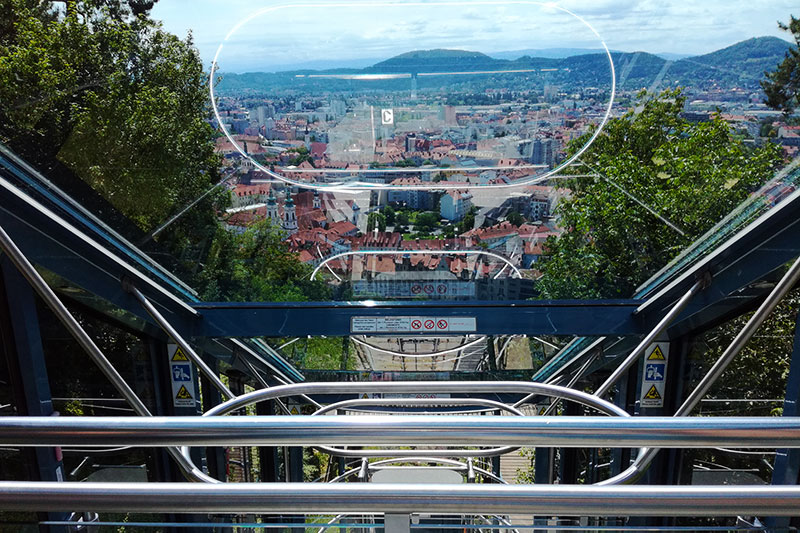 For great views of Graz, head up to the Schlossberg (Castle hill) right above the historic city centre. The Schlossbergbahn funicular railway has transported people up to the site of a former castle since 1894. The funicular railway is a great way to visit the famous clock tower. At 473 m / 1552 feet above sea level, Schlossberg offers a large public park, museum, cafés, and restaurants.
ADVERTISEMENT
Spital am Pyhrn – Wurzeralmbahn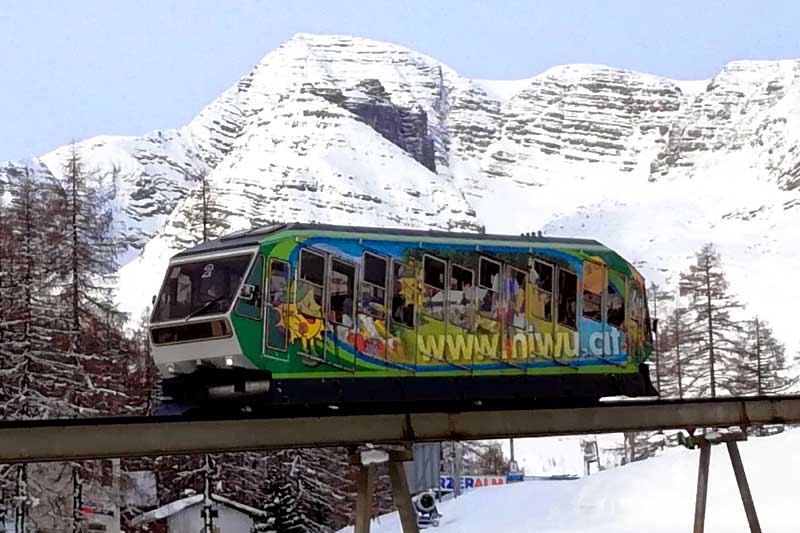 Wurzeralm is located at Teichlboden, which is the biggest high moor of the eastern Tirolean limestone alps. To explore Wurzeralm, you take the funicular railway up to 1400 m / 4593 ft above sea level. The mountain station gives you access to the ski resort in winter or a fantastic hiking area in the summer.
Hohensalzburg Fortress Salzburg – Festungsbahn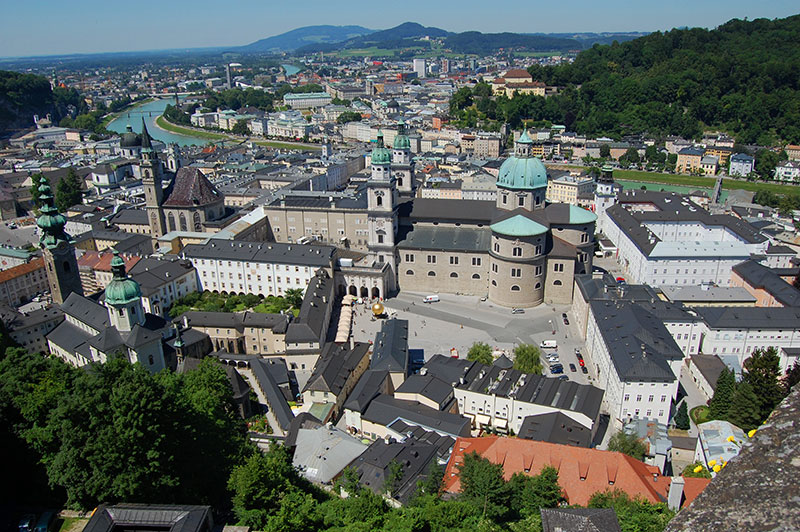 The funicular railway takes you up a 62 % incline from the historic city center in Salzburg, to the Hohensalzburg fortress. This is one of Austria's oldest funicular railways and has been operating since 1892. It's a short 200-meter long, but convenient way to get up the very steep hill. Hohensalzburg, one of the largest existing castles in Europe from the 11th century, is a destination itself. Roam around or enjoy the museums and guided tours available.
Seefeld – Rosshüttebahn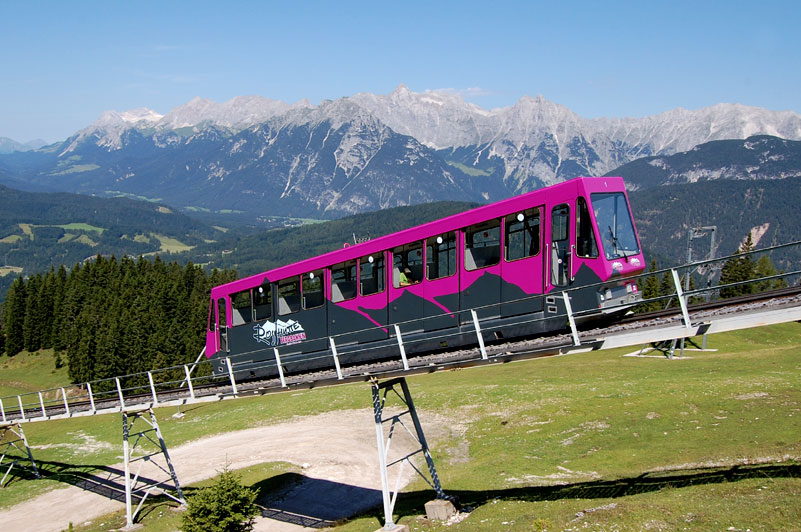 On the outskirts of ski resort Seefeld in Tyrol, you can take the funicular railway up to Rosshütte. Rosshütte, the end station for the mountain train has several restaurants, lots of activities, and an enormous children's playground. The funicular railway makes it easy for families with small children or wheelchair users to enjoy a trip to the mountain. Moreover, the view from the Rosshütte at 1760 meters / 5774 ft above sea level is fantastic.
Austria's airports are well-connected to major cities and central train stations. Therefore, we have put together a list of excellent ski resorts that are easily reachable by train, including some info on how to get there from the airport. Moreover, many ski resorts offer inexpensive or free transfers to and from the nearest train station […]

Hiking in wine regions has become popular in Austria. Many people enjoy the rolling hills and soft landscape as a contrast to the fantastic opportunities for alpine hiking in the Alps. We, therefore, ventured out on a 5.8 km (3.6 mi) long hike in southern Styria through vineyards, forest groves, and open farm landscapes. Nature […]

Situated on the banks of Lake Constance, the town of 29.000 inhabitants is a world away from Vienna at the other end of the country. The westernmost state capital of Austria – Bregenz, is best known for its annual theatre festival. However, the city also offers visitors seaside escapes, mountain hiking, and innovative architecture. Nonetheless, […]

Time travel a few hundred years back to the Middle age when the entire village was full of people dressed in historical costumes, and armed knights roamed the streets mingling with flame breathers. The Middle Ages come alive at what has become the legendary folk festival in Mauterndorf, an hour's drive from Salzburg. Every July […]

Austria has short urban funicular railways and longer tracks that take you up the mountains. A funicular railway consists of two vehicles that counterbalance one another rather than independently operated railway cars. Furthermore, they are usually barrier-free and perfect if you are a wheelchair user or travel with a stroller. 1. Hallstatt – Salzbergbahn A […]
ADVERTISEMENT